The Box Wrote It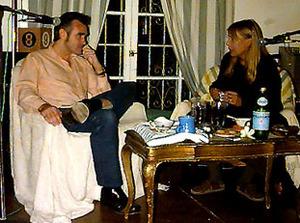 Morrissey: Do films inspire songs within you?
Joni Mitchell: I'm trying to think if I've written from a film. Maybe a line here or there. I know Dylan said to me at one point that he, you know, he couldn't write anymore, and I said, "Oh, what about this and what about that?" And he said, "Oh, the box wrote it." I said, "What do you mean 'the box'?" He said, "I write down things from movies and things I've heard people say and I throw them in the box." I said, "I don't care where you got your bits and pieces; you still put them all together."
I'm sure I've taken—like "Clouds" was inspired by a moment in a book where this guy's up in a plane looking down at clouds and I was reading the book up in a plane looking down at clouds. Put the book down—Henderson the Rain King—that song came from some little bit of Henderson the Rain King. I'm sure I've got little bits of movies in there, but I can't think of one right now.
—From the transcript of an October 18, 1996, radio interview of Joni Mitchell by Morrissey
(I found the interview on Dangerous Minds.)